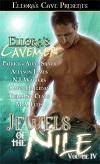 Jewels of the Nile IV, which contains my story "Moon Magic" is now available from Ellora's Cave.
Under the light of the full moon, Meghan Flynn stands before an ancient stone well and wishes for a lover.
Watching from the shadows, Rory Shaunnessey is entranced. When she returns the following night, he steps forward, offering himself as her lover. But a hot summer fling can only last so long. Or can it be something more?
Jewels of the Nile IV
is available today from
Ellora's Cave Publishing
.