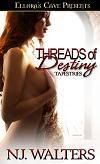 The wait is finally over! Threads of Destiny is now available from Ellora's Cave Publishing. This time travel/ménage story continues the Tapestries series, although it can be read as a stand-alone book.

BLURB:

Marc Garen knows and understands the laws of his world. On Javara, women are scarce and brothers must share, although only one can be her husband. But he is lonely to the depths of his soul and longs for a woman of his own. A woman who has haunted his dreams.

Kathryn is a scientist, fighting to save two genetically enhanced super soldiers from termination when a magical tapestry transports them all to Javara. Now three men share Kathryn's bed, all bent on satisfying her every desire. But Marc is resolved to make her his alone. He has three days to convince her…before the tapestry returns.