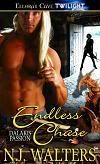 To celebrate the release of
Endless Chase
from
Ellora's Cave
on May 6th, I'm holding a contest.
Blood cults, vampires, murderers and a castle deep in the heart of Transylvania. Family loyalties will be tested as the Dalakis family is threatened once more. Can love overcome the need for vengeance?

If you'd like a chance to win a download copy of Endless Chase, just go to my website and click on the "contests" page for details. Winning name will be drawn on May 5th.